How to choose bedroom carpet?
No matter what factors are considered, the bed is always the center of a bedroom and the most important furniture in the bedroom. Therefore, all items near the bed will increase the importance of the interior space of the bedroom.
If you find that the floor is cold when you get out of bed, then you will understand why bedroom carpet is a necessity. The bedroom carpet can not only warm your cold feet, but also show your unique style and personality. Similarly, carpets can be used to cover up annoying carpet stains, cushion noise and protect solid floors from heavy bed frames. Use these techniques to choose a bedroom rug that will blend your decorative elements together and increase your personal space.
The carpet is one of the furniture closest to the bed.
How to choose a carpet that suits you best?
The placement of the carpet
The size of the carpet
Carpet material
The pattern on the carpet
1. Striped Hand Woven Cotton Rug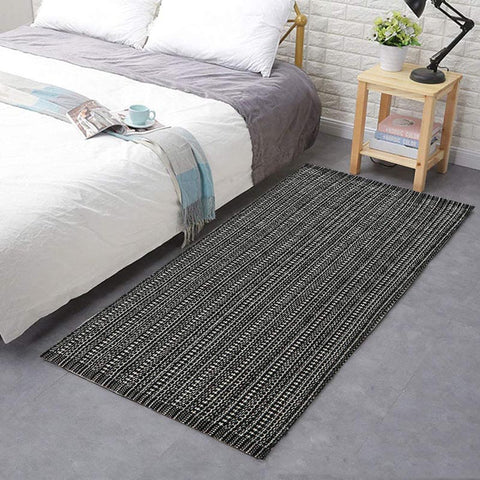 Striped Hand Woven Cotton Rug is a captivating piece that is sure to make an impression in any space it's laid in.
A truly amazing piece with not a single trace of shedding as it's designed with easy to clean yarns to prevent shedding.100% Cotton handmade rugs are manual without the aid of machinery. These rugs are known for their durability and have fringes on each end, which can be turned over for more extended usage.
With this distinctive striped design, this bedroom rug directly puts in a relaxing feel to any space it's put in and allows you to achieve a trendy bedroom.
2. Bohemia Hand-Woven Tufted Cotton Tassel Rug
Bright colors, magnificent contemporary structure – These are the special characteristics of fine carpets, and all are present in a Bohemia Hand-Woven Tufted Cotton Tassel Rug.
Its size is ideal size a sitting area or under the end table in the living room, bedroom, kid's room. The cotton material with an attractive geometric design makes these cotton carpets simple to coordinate with other decors in your room. The handwoven cotton does not fade even with heavy foot traffic. It's lightweight and simple to clean.
This product is great for those looking to bring a contemporary feel to their bedroom.
3. Tufted Cotton Hand Woven Tassel Area Rug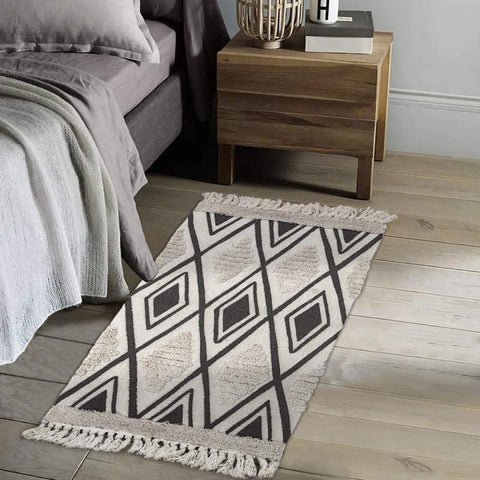 Looking for bedroom rug ideas to cover up day-to-day wear and tear on your floors? Worried about slipping on slick surfaces? Tufted Cotton Hand Woven Tassel Area Rug features a strong, non-slip backing to keep it in place, while its unique geometric pattern disguises footprints and dirt. To launder, simply hand wash or spot clean with a towel and blow-dry. Choose from dark black or white.
With a bordered pattern rendered in a fluffy raised embroidered tufting, Bring a subtly textured look to your space.
4. Cotton Printed Hand-Woven Area Rug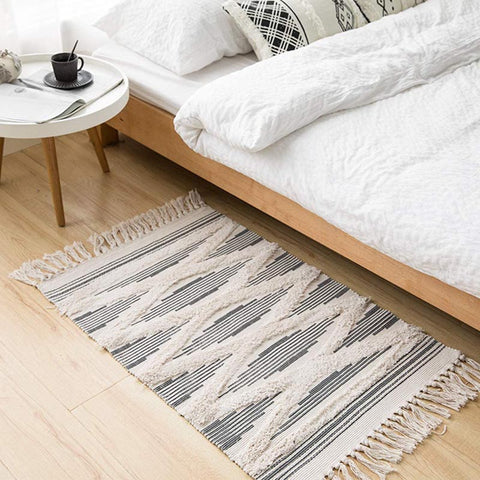 Low-profile rug, featuring a tight weave, accented with tonal shag tufting in a geometric diamond pattern. Finished with tassel trim along edges.100% Cotton handmade rugs are manual without the aid of machinery. With a bordered pattern rendered in a fluffy raised embroidered tufting, Bring a subtly textured look to your space. Complete with a durable latex backing, this rug works best when paired with a rug pad to prevent shifting and sliding.
Make a perfect bedroom rug, cotton floor rug, bath rug, kitchen area rug, doormat, small area rug, laundry room rug, bedside rug, picnic throw and etc.
5. Bohemia Woven Cotton Area Rug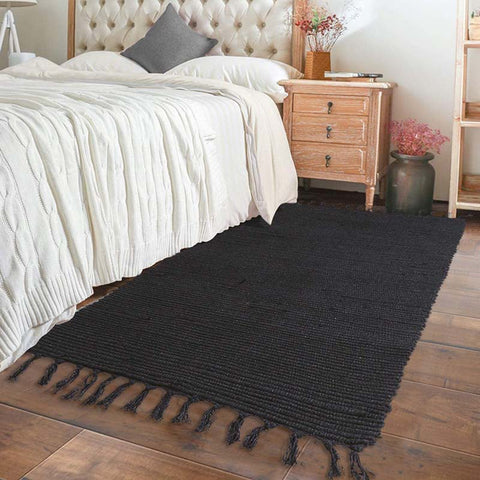 If you've got a lot of color in your bedroom, go all out and make a statement with an equally bold rug. Just choose neutral colors like black & white so it doesn't clash with your other decor. The durable premium cotton allows for long-lasting use. Not fade and fall apart after multiple washing. Hand weaved and tassel adds style and durability.
Simple chic designs and elegant appearance offer Visual enjoyment to any room.
6. Black and White Ivory Striped Area Rugs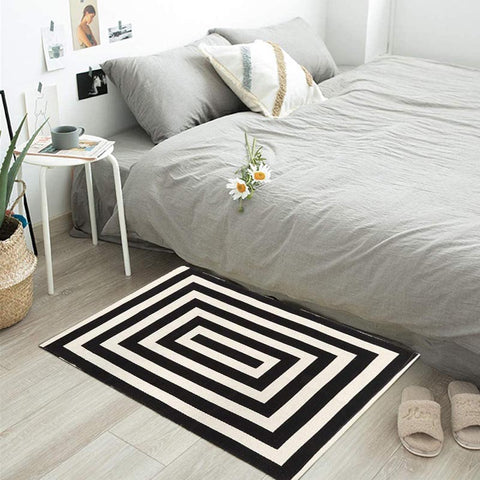 We can't stop loving this chic area rug with black and white colors on it. It's very soft, warm, and plush, and we like how it works great in any part of our home. In fact, it can even be used at the office because of its classy vibe. As for another interesting feature of the rug, it's resistant to fading, staining, bacteria, and soil. With these amazing features, it's the type of rug that will fit any home with pets, kids, or even high-traffic areas.
Introduce color and interest to a dull room with vibrant hues and a sophisticated look while also adding functionality. That's both classic and casual as it sits in your house.
7. Round Mandala Hand-Woven Tassels Area Rug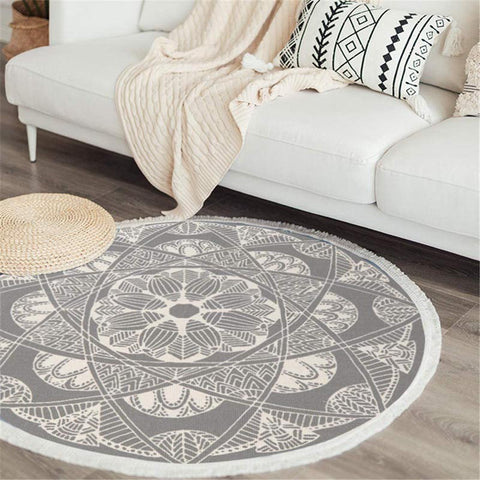 Add a hint of radiance to your home with this well-made area rug. It features a combination of white and grey, with a mandala and abstract design that exudes elegance and style. It's a great rug for your bedroom, dining room, and living room. With its 100% natural unbleached cotton, this manual rug is a gem to your home. Finished with tassel fringe for accent decor in any space, bring a subtly textured look to your space. You won't have to deal with shedding problems with this rug, which is another positive feature you'll love about it.
Not stick hair, non-shedding, fastness, safety, and environmental protection.
8. Tufted Cotton Area Rugs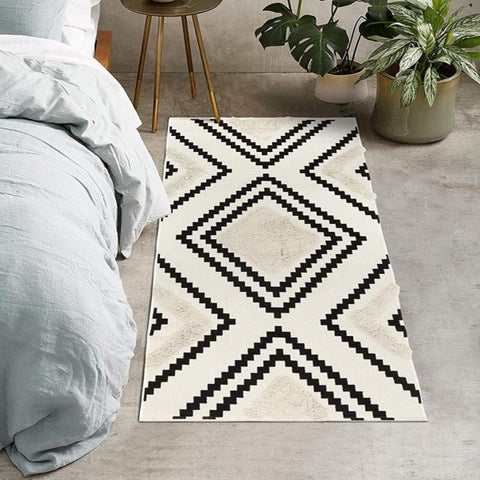 Indeed, it spells out the elegance in every way. The black and cream color combination of this carpet is chic, and there are no intricate designs in it that we truly appreciate. This geometric area rug designed inspired by contemporary tribal style, incorporate popular bohemian elements. Bring an artistic and luxurious sense to your house. And this modern style can blend with any existing home decor. Considering how busy our house gets with a few pets and a couple of kids running around, we're amazed that this rug can hold up well in such conditions.
This floor mat will definitely make you feel amazing!
Conclusion
If you are looking for a comfortable and reliable carpet for your bedroom, then the 8 best carpets introduced above must be suitable for you. These carpets are made of high-quality materials that do not fall off easily and are easy to maintain. These carpets come in many sizes, so you can choose the size that fits the area you want. These carpets are top quality products and are made of high-quality materials that can resist abrasion.
When choosing a design scheme, please check its fabric, color and size carefully. Each product in the list has different functions and sizes, so you can choose the product that meets your needs.
Happy shopping!