When you have a bath mat that suits you, at that moment you will definitely feel that this is like your own bathroom. This is also the easiest way.
Bath mats can add personality to a sometimes dull room, easily add some color or make it look more luxurious. Some can even be machine washed, so when it gets a little dirty, you can throw it in the washing machine. The bathroom is a place where you can relax. Imagine that after a hard day's get off work after work, do you want to go into the bathroom and take a hot bath, but if you come out of the bath, it's a cold floor, right? Will become more distressed?
Therefore, we have compiled some of the best bath mats for you to choose from, the best things you can get, and you can add your own personality.
1. Modern Bathroom Rugs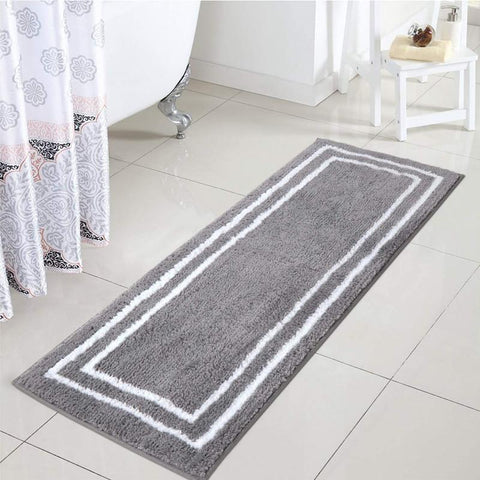 A tufted bath mat is a great way to feel comfy and dry as you step out of the shower. It's extra thick and has a non-slip treatment on the bottom so it won't go anywhere, even when wet.
Remarkable as fast absorbing water and dries fast, its microfiber surface quickly soaks up an impressive amount of water into fiber and keeps your bathroom floor clean and more secure.It adds extra protection for elders and babies and helps keep it in place as you towel dry.It's a comfortable accent rug for in front of sinks, showers, bathtubs, and toilets.
2. Moroccan Imitation Cashmere Non-Slip Bathroom Rugs
Stepping out of the shower has never felt so good with this bath mat that makes you experience a spa-like sensation once you land on it. The thick interior comfortably cushions your feet while providing a dry place to stand on after a shower. The exterior is made of 100% polyester which quickly soaks up the water.
Another amazing thing about this mat is the super fast speed at which it dries which makes it great for a busy household where lots of showers are taken each day.  The mat is machine-washable and you just need to throw it into the washing machine, add a liquid detergent and tumble dry. It also has seams on the edges which makes it compact and easy to store.
3. Imitation Cashmere Non-Slip Bathroom Rugs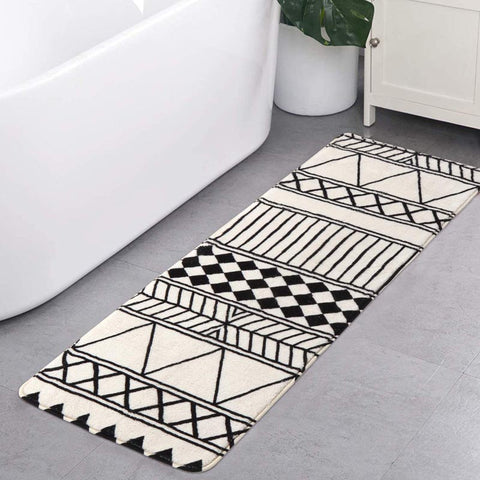 When you want luxury and elegance in your bathroom, this is the bath mat you should go for. It's made of 100% polyester which is soft and comfortable to the touch and friendly even to kids. You can easily wash it in a machine and lay it out to quickly dry outside. It's also specially designed to relieve feet fatigue after a long day's work.
The nonslip bottom is made of 100% environmental thermoplastic rubber. It can remain in place even if in a humid environment, providing protection for you and your family and improving safety during use.
4. Velvet Area Rugs - Evil Eye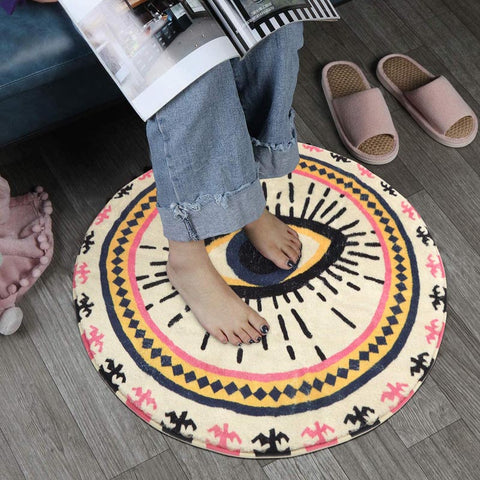 This classic Evil Eye bath mat is soft to the touch. With its round shape, the options are endless for placing this rug at various positions in your bathroom. This reversible rug is made of 100% super-soft velvet and equipped with 100% environmentally friendly thermoplastic rubber. It is non-slip and does not move.
Based on the inspiration of the traditional Kilim pattern, the classic "Evil Eye" pattern is created by the printing and dyeing process.The combination of yellow, blue, pink, and black is full of mystery and artistic sense, making it an ideal choice for decorating and perfecting the appearance of living spaces.
5. Round Area Tassels Area Rug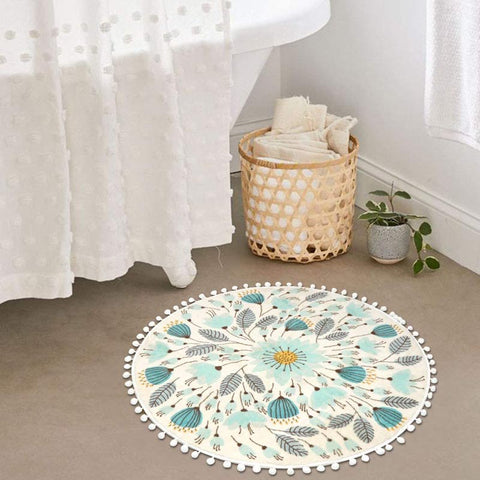 Once you step out of your shower or bathtub, you'll feel the cozy, warm embrace as your feet touch this bathroom mats. Imagine you're getting dressed up in the morning and you feel your feet needs some rest, you just simply put your feet on the bathroom mat. As it is made with 100% polyester, your feet will feel comfortable.
It is available in 3 different sizes variants. The fiber locking technique ensures that the sides are locked. There will be no issue of fibers coming off from the sides. The bottom consists of PVC material. That is why it is non-slip, has good water absorption, and can quickly dry the feet.
6. Fan-Shaped Bathroom Runner Rugs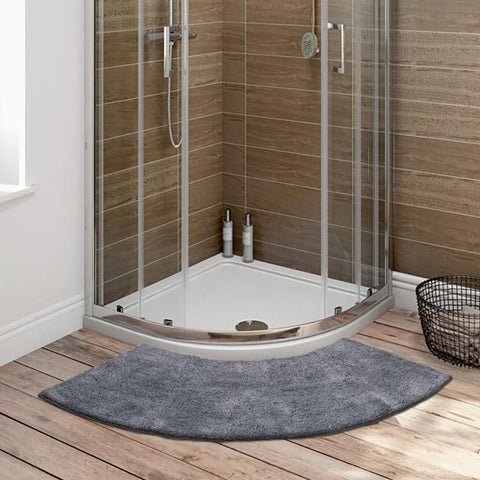 If you have kids who never dry themselves off properly, you're gonna need a super absorbent rug like this one. It's ultra plush and made from a thick, soft chenille fabric. Plus, it can actually go in the dryer.
Durable non-slip bath mats will not fade even when wet and hold them in place.The fan shape makes this bath mat more attractive, it can be placed in irregular spaces.This bathmat for home is constructed with thousands of individual polyester microfiber shags, sink your toes into the comfortable contentment of a bathroom floor mat from the threshold. Soft pile that soothes tired foot and shields toes from the cold floor.
7. Shaggy Bathroom Rug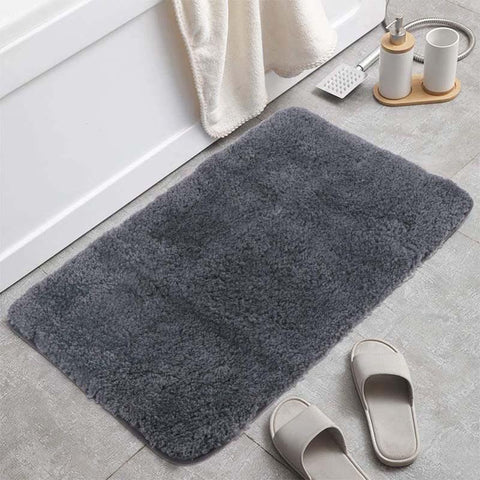 This non-slip bath rug has soft microfibers that are more absorbent than standard cotton bath rugs. The non-slip rubber backing holds this mat in place reducing the risk of slipping when you step out of the shower.Give your feet comfort with super soft thick shag bathroom rugs. These super absorbent rugs provide exceptional comfort and functional fashion with a chic high pile design.
If you are looking for a budget-friendly bath rug to buy, then this bath mat may be the right choice. It is machine-washable, and you can place it in the dryer. Using the flocked technique, every fiber is firmly attached to the backing free of fiber-shedding issue.
8. Round Tufted Non-Slip Bath Rug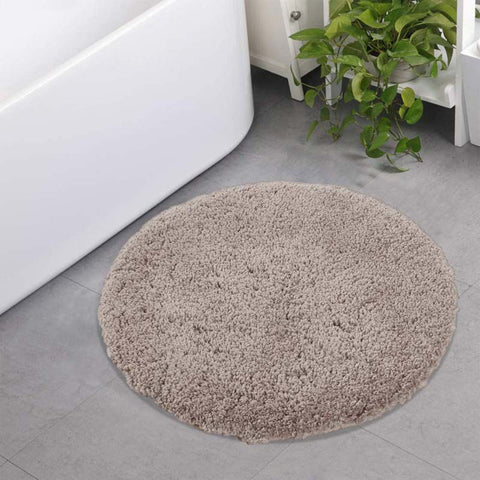 Shag brings you super softness and comfort. This mat is not like most other cotton based designs that slide all over the place. The anti-skid design is perfect, and the rug has enough protection for members of your household to enter and exit the bathroom with remarkable ease.
This mats feature strong microfiber design, with thousands of shags to match.  The plush design provides excellent absorbency and is highly resistant to mildew. It leaves your bathroom clean and dry all the time. The anti-skid feature of these mats is highly reliable, providing a secure protection for elders and babies alike.
9. Bohemian Cotton Woven Fringe Area Rug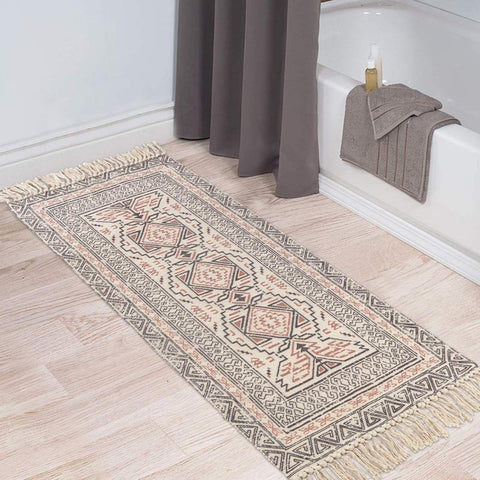 If you are looking for a perfect rectangular shape bath mat, you can choose this one. Because this is the best bath mat for long-lasting and color combination.This bath mat has some extra length comparing with other square as well as rectangular shape mats. Furthermore, if you want to cover a large area or want to place a mat where two persons can wipe their feet together, this mat is an ideal selection for you.
When it is about the durability of bathroom rug, pile density plays an important role. This rug has an extra-thick weave that provides exceptional strength and durability to the mat. Now, anyone can use a single mat throughout the months at anywhere he wants without the apprehension of tearing off!
10. Buffalo Cotton Area Rugs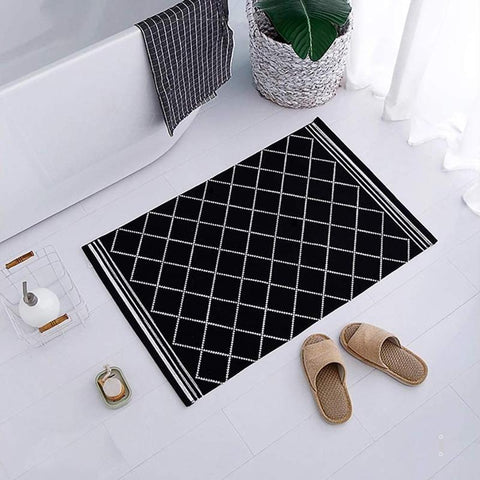 Made of  45% cotton,45% polyester and 10% viscose, the bath mat provides an anti-slip experience after a bath and nice stretch across the bathroom floor.
Woven Rugs are crafted by hand using cozy cotton yarn through a cotton warp to ensure that each rug will lay flat and wear well.Handmade woven, eco-friendly, and comfortable soft and breathable touch, more durable. Ideal decoration for casual and formal occasions.It's also double stitched at the edges giving it durability and an enhanced look. The mats can be washed in a machine using a mild detergent. However, don't wring them after washing so that they don't lose their shape.
In conclusion….
When you wipe the bathroom carpet with wet feet, go to bed and notice that the sheets are wet, why is this? This is because your feet are still wet. This may be because the bathroom carpet you are using cannot adequately absorb water from your feet. A good bath mat should also give your feet unprecedented comfort, and can be used as a protective cover for your feet to resist cold and hard floors. Of course, durability is also something you should consider when choosing a bath mat. Some carpets are often damaged or faded during washing. You must also hope that others have a good impression of your home environment, right? Then you can focus on those bath mats with perfect finishes and double-seam edges when choosing, because they enhance the beauty of the bath mats and the degree of matching with the bathroom.
When you spend a little time learning and understanding what is the best bathroom mat, the final result is always satisfactory. Now, you can choose a bath mat. When your child or spouse walks into the bathroom, your family will feel relaxed.
Don't forget that the recommendations above will exceed your expectations.